1994 - I started light for Turner Studios with their networks TNT, TCM, TBS, CNN, Cartoon Network, Turner South. "Dinner and a Movie", "TCM w Robert Osborn", "NBA on TNT", "MLB on TBS", "Cartoon Fridays" are just to name a few that ran for years inside Turner Studios.
2004 - I started LD and Gaff'ing for shows and clients such as "Cartoon Fridays" on Cartoon Network, commercials, and music videos. Discovery Channel, Discovery ID, HBO, Animal Planet. Music Videos with: John Mellencamp, The Constellations, Monika Leigh Spense 100s of commercials: NASCAR, Raygun Films, TNT Sports, HBO
2007 - SPEED Channel and FOX Sports 1 with NASCAR asked me to be the Network Lighting Director for the NASCAR Sprint Cup Series and the Camping World Truck Series. This was a great opportunity for me to take all of the knowledge I had learned the previous years and run with it. We had bad weather, day to night transitions, and multiple simultaneous shows as working hurdles. I had that stage dialed in to a GREAT look that rivaled anything that's on air then or today. I had a great lighting team, TV crew, and the BEST TV Talent ever.
WHAT WAS IT ? : The TV stage is a BIG marketing area that sets up outside the race track where SPEED would shoot Network racing shows and bumps throughout the race week. The Network and Staging company would give me diagrams of "looks" and I would turn that into a lighting and working plan.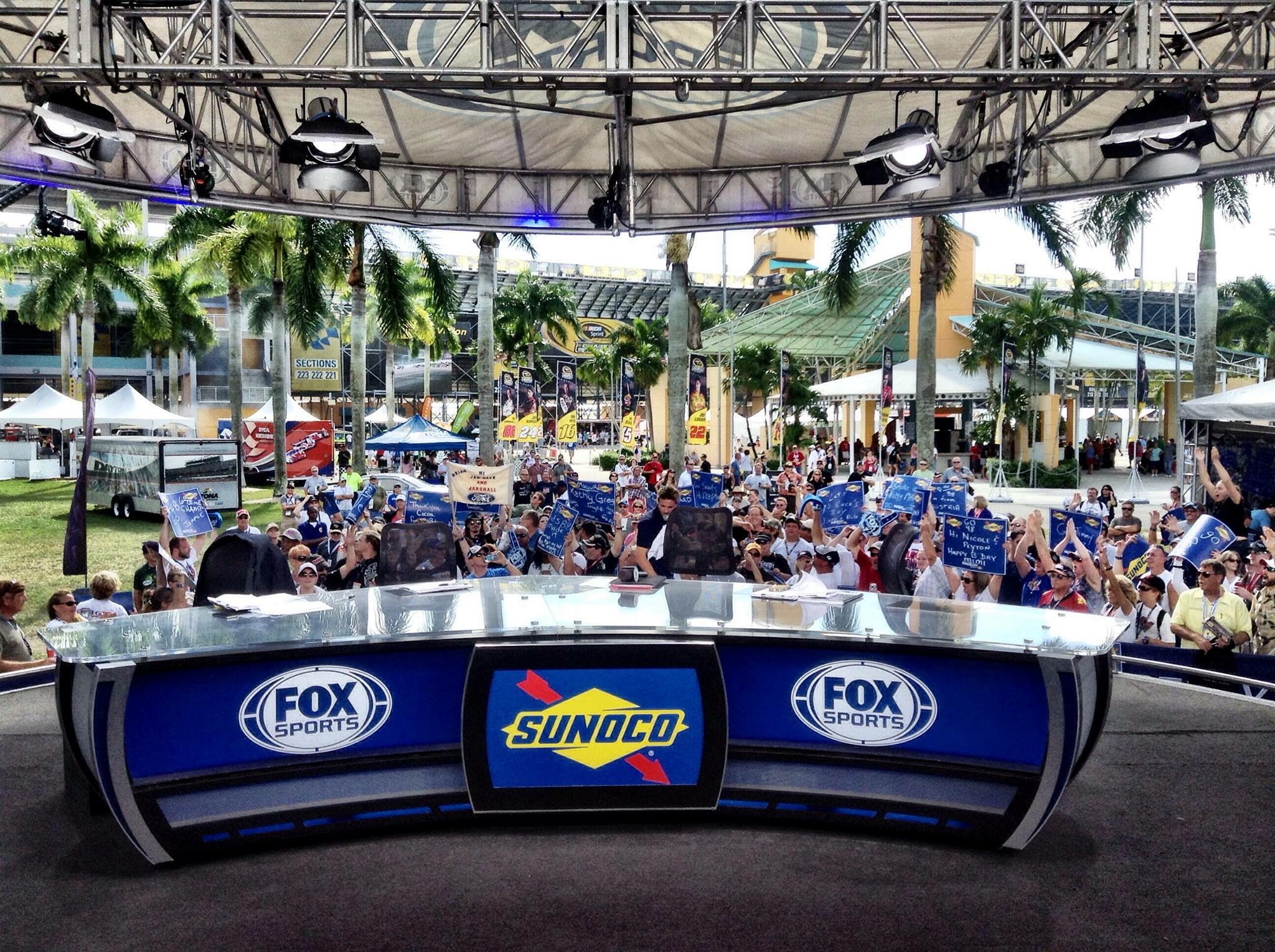 We would shoot multiple locations and simultaneously throughout the week. We had a mobile 3 person mobile desk, a two person stand up, and broadcast booth where our announcers would call a race. I traveled with NASCAR for 7 years and the show travel math was crazy. I was gone 42weeks a year and 5 days a week. We shot approximately 10 shows a week around 2 race series. That totals = 1500 travel days, 600+ NASCAR races, and 3000 TV shows..... I'm tired
I made some wonderful friends and great working colleagues through out that series. I am TOTALLY great full for the people that took a chance on me.
2014 - I have worked my way back into local Atlanta market. The NASCAR experience was 85% technical and 15% creative. I miss the "creative" part of making images and I'm enjoying the nice change. My recent client list consists of Apple, NFL on FOX, The Justice Network, "Salon Wars", NBA on TNT, NBC Sports - NASCAR, "Swamp Murders". I'm always looking for lighting challenges and ways to make images better